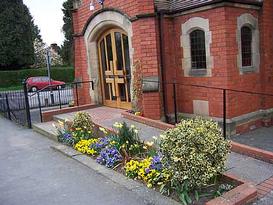 All Regular Events are cancelled during the Corova Virus outbreak. Keep up to date with the Latest News Page
Sunday Worship  10.30a.m. followed by refreshments in the church hall. N.B. We do not have a Junior Church at the moment but children of all ages are most welcome at all our services and there are special age specific activity bags available.
On the 1st Sunday of the month  morning worship includes the celebrated of Holy Communion.
On the 5th Sunday in the month at 6.00 p.m. there is an evening Communion Service
Craft Club Monday's 10.00 – 12.00 in the church hall
Baby & Toddler Group Wednesdays, 10.00 – 12.00 a.m. in the church hall
Network Wednesdays at 2.30 p.m. in the church hall
Stepping Stones pre-school  Thurs and  Fri mornings have recommenced.
9.00 a.m. – 12.30 a.m. during term time, meeting in the church hall
Contact Tel No: 01694-722341
There are from time to time, mid week services, occasions when the church is open for prayer and Bible Study Groups which meet at various venues.
FOR ANY CHANGES  OF REGULAR ACTIVITIES PLEASE SEE
Events for the coming week
For further details contact Jon Cooke 01694 720353