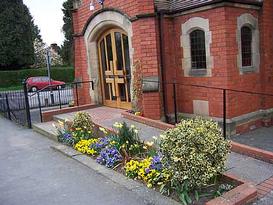 Sunday Worship  10.30a.m. followed by refreshments in the church hall. N.B. We do not have a Junior Church at the moment but children of all ages are most welcome at all our services and there are special age specific activity bags available.
On the 1st Sunday of the month  morning worship includes the celebrated of Holy Communion.
Baby & Toddler Group Wednesdays, 10.00 – 12.00 a.m. in the church. Call in to find out more.
There are from time to time, mid week services, occasions when the church is open for prayer and Bible Study Groups which meet at various venues.
Cuppa and chat  Wednesdays, 2.20 – 4.00 p.m An opportunity to call in for a cuppa and a chat. A warm friendly welcome to anyone who cares to call in for a bit of company.
WARM SAFE SPACE  Every Wednesday 12.30 – 4.00PM  during the winter months. Hot drinks, board and table games, someone to chat to or just somewhere warm. We are are a Dementia Aware church.
FOR ANY CHANGES  OF REGULAR ACTIVITIES PLEASE SEE WEEKLY NOTICE SHEET
For further details contact Jon Cooke 01694 720353