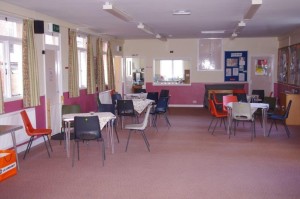 Our premises are available for hire and have full disabled access speech amplification and hearing loops in both church and hall.
Here are the rates:-
Church Hall, including use of kitchen facilities.
Occasional Users £24.00 per session
Regular Users £21.00 per session         (A block booking for at least 8 sessions)
Contract Users  : subject to contract, as agreed by the Management Committee
A "Session" is defined as up to four hours:
9.00 am   –     1.00 pm
2.00 pm   –     6.00 pm
6.30 pm   –   10.30 pm
The hall comfortably seats 50+ and there are tables and chairs available. There is also a projector screen. The kitchen is fully equipped with a range of crockery, cutlery, a six burner cooker and oven, + fridge and microwave. Use of the premises, furniture or equipment outside these guidelines is subject to agreement with the Management Committee. There is an amplification system which includes loop amplification for the hard of hearing and for music with blue tooth connectivity.
Church & Vestry
For community use – hall rates apply
Otherwise  £40.00       (including musical instruments & P A system which has an Induction Loop  in both church and hall.)
All arrangements for the use of the Premises must be made through the Bookings Secretary, to whom payment is to be made.
To enquire availability and ask for a booking form please contact Mrs. Carole Coles on 01694 724958